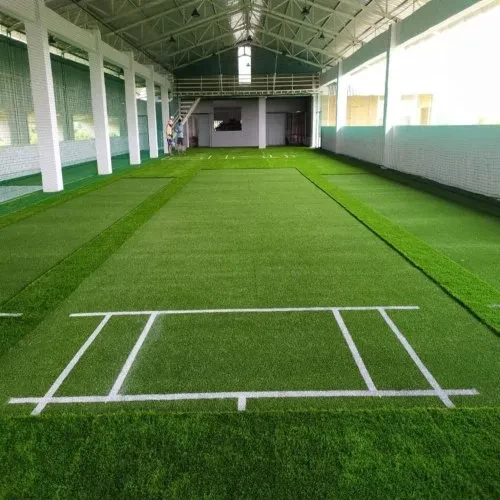 Synthetic Cricket Pitch by Amico Sports
Amico Sports offers a high-quality Synthetic Cricket Pitch designed to enhance your cricketing experience. Our synthetic pitch is engineered to offer consistent performance, durability, and safety for cricketers of all skill levels.
Key Features and Benefits:
Made from premium quality synthetic materials to offer excellent durability and longevity
Offers consistent bounce and speed for a better cricketing experience
Provides a non-slip surface for increased safety and injury prevention
Easy to maintain, with minimal water and upkeep required
Cost-effective alternative to traditional turf pitches
Technical Specifications:
Thickness: 15 mm
Material: High-quality synthetic material
Size: Available in custom sizes to suit your requirements
Color: Green or other colors as per customer's preference
Durability: Long-lasting and resistant to wear and tear
Types:
Our Synthetic Cricket Pitch is available in various types, including practice pitches, match pitches and indoor pitches. We offer a range of customization options to ensure you get the perfect pitch for your needs.
Applications:
Our Synthetic Cricket Pitch is suitable for all types of cricket matches, practice sessions, and tournaments. It can be installed in outdoor or indoor facilities and can be used for both professional and recreational purposes.
Installation:
Our expert team can install the Synthetic Cricket Pitch for you, ensuring a perfect fit and high-quality finish. We will guide you through the installation process and provide all necessary instructions and equipment.
Maintenance:
Our Synthetic Cricket Pitch is low maintenance, with only minimal watering and occasional brushing required. It is resistant to weather conditions and can withstand heavy usage without losing its quality.
Conclusion:
Investing in a Synthetic Cricket Pitch from Amico Sports is a wise decision for cricket enthusiasts and professionals alike. Our pitch offers consistent performance, durability, and safety, making it an excellent long-term investment. Order now and take your cricketing experience to the next level.